Tiny house. Big space.

These are intelligent homes. Every design decision has been carefully considered to emphasize quality of life over brute square footage. To put the things you need most where they are most convenient. And to trade wasted space for space to live.

Quality is in the Details.

Beautiful bathroom tile, modern flooring, rounded wall corners, plentiful recessed lighting . . . these are just a few of the details that add up to a home that you can be proud of calling your own.
Wise Experience
WiseSize Homes is what you might call an "experienced new company". The company was launched in 2013 by Hayden Homes, a homebuilder that has built and sold 8000+ homes in the Northwest since 1989.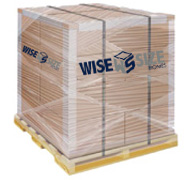 Hayden Homes, had a vision for creating a high quality, stick built home that could be built anywhere you want it. On your land, or your getaway, far from the hustle and bustle. WiseSize Homes are the right size home, at the right price, right where you want it.
Thinking outside the box. WiseSize utilizes Hayden Homes' network and buying power along with Simplicity's process and craftsmanship to deliver a high quality, high value, zero defect home right to you.
Expanding the possibilities
Soon, there will be no place we can't go. Our engineers are already solving the challenge of how to package and ship WiseSize Homes anywhere, and everywhere. The sky really is the limit. The world may be getting smaller, but that is not necessarily a bad thing, because once you find that perfect place, we'll get the right home there for you. A WiseSize Home.
Investing Smart
Sure, you could put a manufactured home on your land but that would only decrease in value
over time instead of increasing.
Less is More

Interested in rightsizing instead of simply downsizing? WiseSize Homes let you live a smarter, more thoughtful and more purposeful life in a tiny house with exceptional quality and value. So, go ahead, live a little.
The quality in a WiseSize Home extends from our supply partners to the workmanship and materials you'll find "in the box". You'll find top-name features and fixtures throughout your new WiseSize Home. Below are just some of our valued manufacturing and supply partners who help us bring you the highest quality home, at the lowest possible cost.
| | |
| --- | --- |
| | Parr Lumber sources high-quality wood products, while working to help develop and maintain environmentally sound practices here in the Northwest. Parr's philosophy is designed to support and strengthen local communities and encourage investment in small businesses. When you build with Parr materials, you can rest assured that your investment goes to support local community initiatives and charities. |
| | Moen is the number one brand of faucets in North America, with a proud history of innovation and design. They pioneered and patented the one-piece cartridge which means no washers, springs or discs – the most common cause of annoying drips. All Moen faucets come with a Lifetime Warranty against leaks, drips and finish defects.Moen. Buy it for looks. Buy it for Life |
| | GE Appliances. For more than a century, GE has been committed to producing innovative products that change the way people live. The result of thorough research and rigorous testing, GE appliances are designed for years of dependable performance. Today, the GE tradition of quality and innovation continues. |
| | Shaw Floors is a leading manufacturer of a wide variety of top quality carpet and hardwood flooring. In business for over 60 years, Shaw has created innovative flooring solutions to meet the changing needs and lifestyles of our growing family of active customers.Shaw, Where Great Floors Begin |
| | Mannington Floors look better because they really are better. Mannington has won more awards for style and performance than any other flooring company. Each of their floors offers environmental attributes you won't find anywhere else. "We're always examining our operations and investing in new technologies to make continual environmental improvements. Not just because it's good business, but because it's the right thing to do."Nothing says "Welcome Home" like a Mannington floor. |
| | Merillat Cabinetry is not just cabinets. First and foremost, it's people. The people who create. The people who design. The people who have it in their homes. Together, we each bring our talents, our ideas, and our passions. And collectively, we are "America's Cabinetmaker". Based in Michigan, and part of Masco Cabinetry, Merillat has been providing quality cabinetry since 1946. With manufacturing plants located throughout the United States, Merillat has grown to become one of the nation's largest cabinet manufacturers. |
| | LP Building Products is a leading manufacturer of high quality building materials. LP® SmartSide® Trim & Siding products offer all the warmth and beauty of traditional wood, along with all the advantages of LP engineered wood. Advanced technology actually improves upon nature, creating products that are far more durable and consistent than traditional wood materials. The SmartGuard® manufacturing process ensures that all LP SmartSide products deliver outstanding strength and durability to withstand extreme heat, cold, humidity and rainfall. |
| | Owens Corning makes residential, commercial and industrial buildings more energy efficient, comfortable and attractive with its insulation, roofing, masonry and asphalt products. A world leader in building materials systems and composite solutions, Owens Corning Cultured Stone in the preferred nam in Stone. It is the highest quality. Most recognized. Most used.Owens Corning Cultured Stone, The Preferred Name in Stone |
| | IKO is a leading manufacturer of roofing and waterproofing supplies. For over half a century, IKO has been breaking new ground in the roofing industry and "setting the standard". Family owned for three generations, IKO is committed to exceptional quality, continuous innovation and state-of-the-art manufacturing.IKO, Setting the Standard |
| | Sherwin Williams is a leading manufacturer, distributor, and seller of paint, coatings and related products to professional, industrial, commercial, and retail customers worldwide. Since its inception in 1866, Sherwin Williams has been providing high quality paint. With Sherwin Williams you are guaranteed to get a paint that will last. |